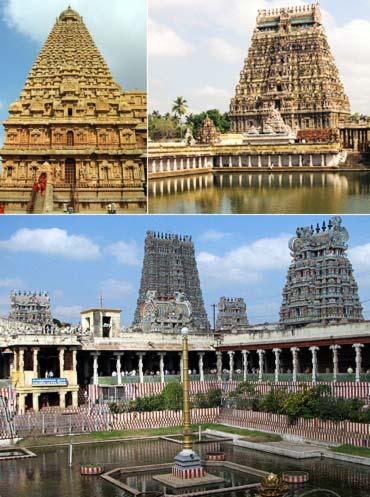 The skyline of our southernmost state is dotted with a wealth of ancient temples that have survived centuries and continue to be worshipped today.

While a mention of all these structures is quite impossible, the most prominent among them are the Chidambaram Temple in the temple town of Chidambaram, the Meenakshi Sundareswara Temple in Madurai and the Brihadeeswara Temple at Thanjavur. All of them are dedicated to the god Shiva

Chidambaram is one of the five holiest Shiva temples, each of which represents a natural element; this one is representational of akasha or ether. Sprawled over 40 acres, the complex is vast, with water bodies within and around and it holds a jewelled deity of of Nataraja. It has seen several renovations through centuries of existence, notably at the hands of a clan of Vishwakarmas and Pallava/Chola royalty.

The Meenakshi Sundareswara, dedicated to both Shiva and his consort Parvati, is a massive complex consisting o several tall Gopurams or towers with two golden ones for the presiding god and goddess. Intricately carved and painted, the architecture will take your breath away and the shrines are many and awe-inspiring, like the huge single-stone Ganesha sculpture and the Thousand Pillar Hall.

At Thanjavur, the Brihadeeswara Temple was the world's first all-granite temple, constructed by the Cholas. The Vimana or temple tower is 66 metres high and a giant statue of the sacred bull, Nandi, carved out of a single stone 16 feet long and 13 feet high stands at the entrance. The architecture is in the Dravida style and the entire complex is surrounded by a moat and fortified with high walls.