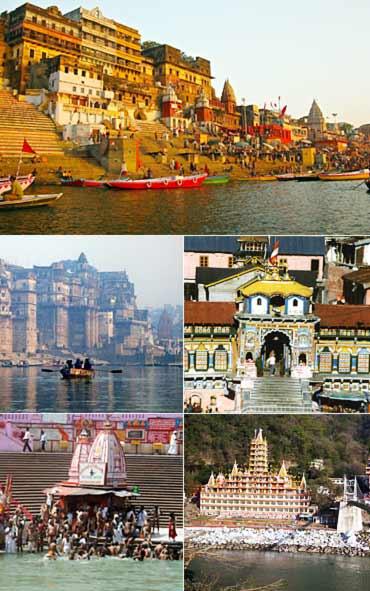 While not all of them hold one specific shrine of supreme importance, India's holy towns of Varanasi, Allahabad, Badrinath, Haridwar and Rishikesh are among the country's most popular pilgrimage spots due to their spiritual history and connection to the holy Ganges river.

Varanasi in Uttar Pradesh holds significance for Hindus, Buddhists and Jains. In fact, Hindus believe that a pilgrimage to the town at least once in a lifetime and the immersion of the ashes of cremated ancestors in te Ganges is a must. The town is believed to have been established by Lord Shiva himself nearly 5,000 years ago and it is certainly one of the oldest existing within the country.

Allahabad, also in Uttar Pradesh, is another sacred city in UP, where legend has it the god Brahma made his first sacrifice after having created the world. Located at the confluence of the holy rivers of both the Ganges and the Yamuna, the devout believe a third, invisible river, the Sarasvati, joins them here. Allahabad is also the site of the Maha Kumbh Mela pilgrimage, which takes place here every 12 years and the Purna Kumbh Mela, which is held only once in 144 years. The melas are attended by millions from across the world.

Like Allahabad, Haridwar in Uttarakhand also hosts the Maha Kumbh Mela once in 12 years. It is the first city that the Ganga passes through upon its entry to the Indo-Gangetic plain. According to Hindu mythology, it was here that the holy bird Garuda accidentally spilled a few drops of Amrit (holy manna that rendered immortality) while carrying it in a pitcher or kumbha (the kumbha is symbolic of the womb, where life begins).

The gateway to the Himalayas, Rishikesh, is located in Dehradun, Uttarakhand. The city flanks the Ganges and is named after one of Lord Vishnu's many forms, Lord Hrishikesh. It is believed that Hrishikesh appeared here under a mango tree to a sage, to reward his austere dedication to the spiritual path.